Zoom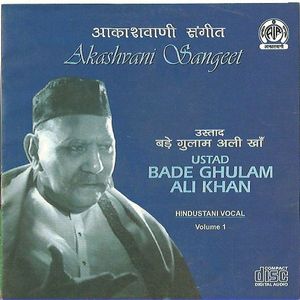 Bade Ghulam Ali Khan Vol 1
Bade Ghulam Ali Khan was a Hindustani classical vocalist, from the Patiala gharana. Though Khan started his career by accompanying female singers on the sarangi, he also used to sing a few compositions of his late uncle. He was also a disciple of both Ustad Akhtar Hussain Khan and Ustad Ashiq Ali Khan, two scions of the Patiala Gharana. He became popular as a vocalist after his debut concert in Kolkata. Khan amalgamated the best of four traditions:his own Patiala-Kasur style, the Behram Khani elements of Dhrupad, the gyrations of Jaipur, and the behlavas (embellishments) of Gwalior. His voice had a wide range, spanning three octaves, effortless rendition, sweetness, flexibility and ease of movement in all tempo. His raga expositions were brief, contrary to convention, and while he agreed that the beauty of classical music lay in leisurely improvisation, he believed that the audience would not appreciate long alaps, and he had to sing for the masses and change the music to what the audience wanted.
 1.Raga Gunkali- 29:34 
2. Rag Bhupali -29:13
Write a review
Your Name:
Your Review:
Note:

HTML is not translated!
Rating:
Bad
Good
Enter the code in the box below: