Zoom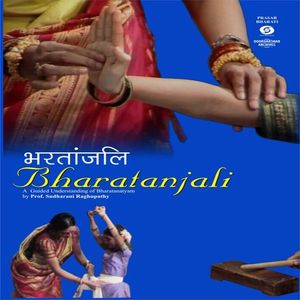 Dancer and teacher Sudharani Raghupathy begins her story of Bharatanatyam with a quotation from the Natyashastra: "Dharmyam Yashasyam Aayushyam..." where the Natyashastra is referred to as the fifth Veda, combining aspects taken from all the four Vedas. Declaring dance as the one activity which bestows all benefits of Dharma, virtue, fame, and inner satisfaction as nothing else can, Sudharani speaks of it as an art form containing within it the essence of poetry, sculpture, painting, yoga and all other disciplines. As an instinctive response of man during times of stress and joy, dance is a visual harmony which can take one away from the stress of daily living and harsh reality. This spontaneous activity comprising rhythm, mime and movement, which was once regarded as pure entertainment, with time assumed a strongly religious and spiritual dimension. In fact every activity of life expresses itself in its own dance forms. Religious, social, theatrical, occupational, ritualistic, stylised and symbolic dance takes innumerable manifestations. Presented by Sudharani Raghupathy Introduced by Leela Venkataraman 8 episode session.
Total Duration: 03 hr 36 mts
Write a review
Your Name:
Your Review:
Note:

HTML is not translated!
Rating:
Bad
Good
Enter the code in the box below: