Zoom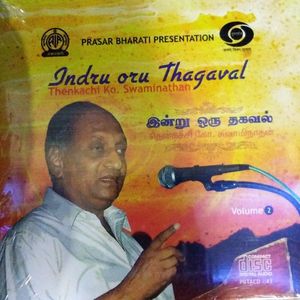 Indru Oru Thagaval Thenkatchi Ko, Swaminathan (Vol-2)
Thenkatchi Ko, Swaminathan, a down to earth human being and an impressive narrator was the host of the daily programme INDRU ORU THAGAVAL over All India Radio Chennai.
Millions of people across Tamil Nadu woke up to his voice and relished his unique presentation every morning for several years.
Many still remember Thenkatchi Ko Swaminathan for his popular daily programme INDRU ORU THAGAVAL on All India Radio (AIR). This five minute talklet, presented in simple colloquial Tamil punctuated by anecdotes meant to make you smile and ponder over, was broadcast without break for 14 years from 1988 until his retirement in 2002. After completing his B.Sc in agriculture from the Tamil Nadu Agricultural University in Coimbatore, Shri. Swaminathan worked as an Agricultural Extension Officer for a few years. Later he joined AIR in 1977 and retired as Assistant Station Director.
Before presenting Indru Oru Thagaval, he was involved in Pannai Illam (Farm & Home) broadcast which was an instant success with the farmers. Through this programme, he taught farmers modern agricultural techniques using his inimitable colloquial style.
Write a review
Your Name:
Your Review:
Note:

HTML is not translated!
Rating:
Bad
Good
Enter the code in the box below: