Zoom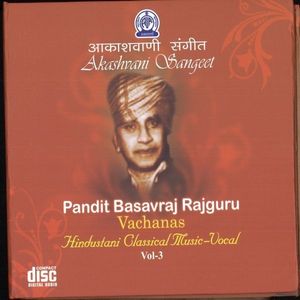 Pandit Basavraj Rajguru Vol 3
Pandit Basavraj Rajguru (Vol.3) Hindustani Classical Music-Vocal Pandit Basavraj Rajguru was born at Yaliwal, a village in the north Karnataka district of Dharwad, a great centre of Hindustani classical music. He was a leading Hindustani vocal musician in the Kirana Gharana (tradition). Due perhaps to his aversion for publicity and his simple and scholarly lifestyle, he never achieved the level of fame of his contemporaries Bhimsen Joshi andGangubai Hangal of the same gharana. He received many awards, including the Padma Bhushan.
 1.Sooryanaudya Taavarege- 04:25 
2.Kariya Anjuvudu- 04:53
3.Aaru Munidu- 04:18 
4.Chandrodayake Ambudhi- 04:54 
5.Ole Hatti Uridode- 04:36 
6.Nooranodi Noora 04:19 
7.Ullauvaru Shivalaya- 05:59
8.Jagava Suttippaudu Ninnaya Maye- 03:35
9.Chakaorunge Chandramana- 05:13 
10.Enna karyada kattake- 03:48 
11.Chilimileyendaduva Giligalira- 02:44
12. Nodalagade Deva -05:00 
13.Shareeraventembuva 04:13
 14.Sakalakellake- 04:29
15.Nigamavinutha Swamy 05:11
Write a review
Your Name:
Your Review:
Note:

HTML is not translated!
Rating:
Bad
Good
Enter the code in the box below: