Zoom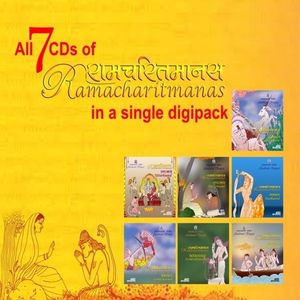 Ramacharitmanas Complete Set of 7 ACDs
Ramacharitmanas' of Tulsidas is one of the greatest epics of Indian Literature, in which the various events and episodes of Lord Rama's life are described with great devotion and superb narrative skill. There are seven chapters in 'Ramacharitmanas'. The melodious flow of the poetic lines regales the listeners with a beautifully memorable experience. Complete Set of 7 ACDs comprising Baalkaand, AyodhayaKaan, AranyaKaand, KishkindhaKaand, Sundarkaand, LankaKaand, UttarKaand.
This version of Ramacharitmanas was recorded at Bhopal Station of All India Radio between 1978 1980 and broadcast thereafter.
The Ramacharitmans was recorded in the voice of following artistes:
01-                       Shri Biraj Bhushan Basu
02-                       Shri Ram Kishan Chandeshri
03-                       Ms. Jayshree Thatte
04-                       Shri Jagdish Singh Thakur
05-                       Ms. Surekha Kalkar
06-                       Ms. Kusum Badodkar
07-                       Ms. Manjula Pancholi
08-                       Ms. K.Sitavasanta Laxmi
09-                       Shri Awadesh Prasad Tripathi
10-                       Ms. Shalini Gaikwad
11-                       Shri Indra Kumar Gupta
12-                       Mohamad Ahmed Anees
13-                       Ms. Vasundhra Telang
Write a review
Your Name:
Your Review:
Note:

HTML is not translated!
Rating:
Bad
Good
Enter the code in the box below: