Zoom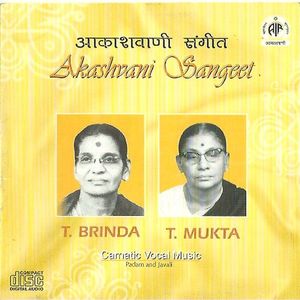 T.Brinda & T.Mukta T. Brinda and T. Mukta, the famous singing duo of Carnatic music, were born into a family of court dancers of Tanjavur. Brinda showed exceptional musical talent as a child and at the age of nine her mother kamakshi took her to kanchipuram Nayana Pillai for training in Manodharma Sangitam, then regarded as a male preserve. After four years of Gurukulavasam, she returned home and began to acquire a vast repertoire of Padams and Javalis from her grandmother and aunts. Mukta joined her and in their long partnership of forty years they made a tremendous contribution to Carnatic music by popularising this genre in music concertsto the extent of becoming identified with it.
1.Saveri 04:57
 2.Kambhoji 10:58
 3.Kapi 05:27 
4.Sahana 08:57 
5.Todi 11:38
6.Khamas 03:33
7. Bega 06:34 
8.Punnaga Varali 08:46
Write a review
Your Name:
Your Review:
Note:

HTML is not translated!
Rating:
Bad
Good
Enter the code in the box below: